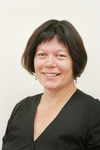 Suzanne Chappell CBP, ITEC, Dip Phyt, MNZAMH, NHC
Pain Neutralization Specialist, Massage Therapist, Certified BodyTalk Practitioner & Medical Herbalist
Suzanne Chappell went to England in 1989 to train as a Medical Herbalist and Massage Therapist. She attended The School of Phytotherapy full time for 3 1/2 years full time and qualified in 1991 with a Diploma in Phytotherapy (Herbal Medicine) and ITEC Massage Therapy.
She has completed various post graduate courses like Muscle Release Technique and Positional Release Technique with Wellpark College, Manual Mobilisation Courses 1, 2 and 3 and Natural Fertility Management with Francesca Naisch from Australia.
In 2005 Suzanne started learning Body Talk and has passed her examinations to qualify as a Certified BodyTalk Practitioner, has completed Module 1 through to Module 9, Advanced Module Integration and went to Brisbane to learn Chinese Medicine for BodyTalkers.
In 2011 Suzanne learnt the techniques taught by Stephen Kaufman, PNT (Pain Neutralization Technique), Manual Spinal Nerve Block and Scleratome techniques which she uses alot in her practice to help aches and pains.
Suzanne is a member of The NZ Association of Medical Herbalists, The NZ BodyTalk Association and The International BodyTalk Association, based in Florida, USA.
Suzanne is the owner and sole Practioner of Aches Away! and is located at North City Osteopaths, 75 Whau Valley Rd, Whangarei. She has been practicing in Whangarei since 1999.
Suzanne Chappell is available Tuesday, Wednesday and Friday until 6.30pm and (some Saturdays by prior appointment) .
A receptionist is available to take your bookings before 3.30pm during weekdays if you ph (09) 4385385.