Testimonial from
Michelle Webb, the gift guru owner of Gifts on Rathbone, Whangarei
Michelle's comments:
I'm a believer, BodyTalk is amazing, painless and works wonders for me and Suzanne's massages are even better. I have a lot of back problems and by going regularly she keeps me mobile & pain free. I send my staff monthly as a reward for all their good work and effort and the day that their massages are due they happily skite "I've got massage today", making me wish I had one too. I highly recommend Suzanne.
Michelle Webb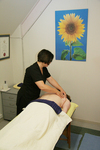 Buy a Gift Voucher online as a great gift for your clients or staff - or at the clinic 75 Whau Valley Rd, Whangarei (09) 4385385 or reception (09) 4370238